Construction on the keel section of Runway 13-31 has been completed and the runway is back open as of 1230 on May 26. Grooving work will be conducted next month, with dates to be determined.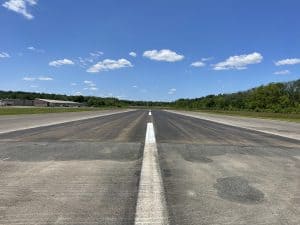 DM AIRPORTS, LTD. will provide updates concerning the grooving work schedule as they become available.
---
In anticipation of increased Runway 13-31 use caused by MMU's Runway 5-23 Rehabilitation Project over the next 5 years, DM has planned for 13-31 construction phases to accommodate. DM last conducted work on Runway 13-31 in the summer of 2018.
---
For a full breakdown of Phase IX construction of Morristown Airport's Runway 5-23 Rehabilitation Project set to begin on July 10, please click the link below