Phase VI (Complete)
Phase VII (Complete)
Phase VIII (Complete)
Phase IX (July 2023)
Phase X
Phase VI (Complete)
Phase VI (formerly "Stage A")
Phase VI; Completed
Phase II, Stage A Complete; Access Road and Runway Safety Area Grading
Phase VII (Complete)
Phase VII (formerly "Stage B")
Phase VII; Completed
Phase II, Stage B Complete; Culverts replaced on MALSR Road.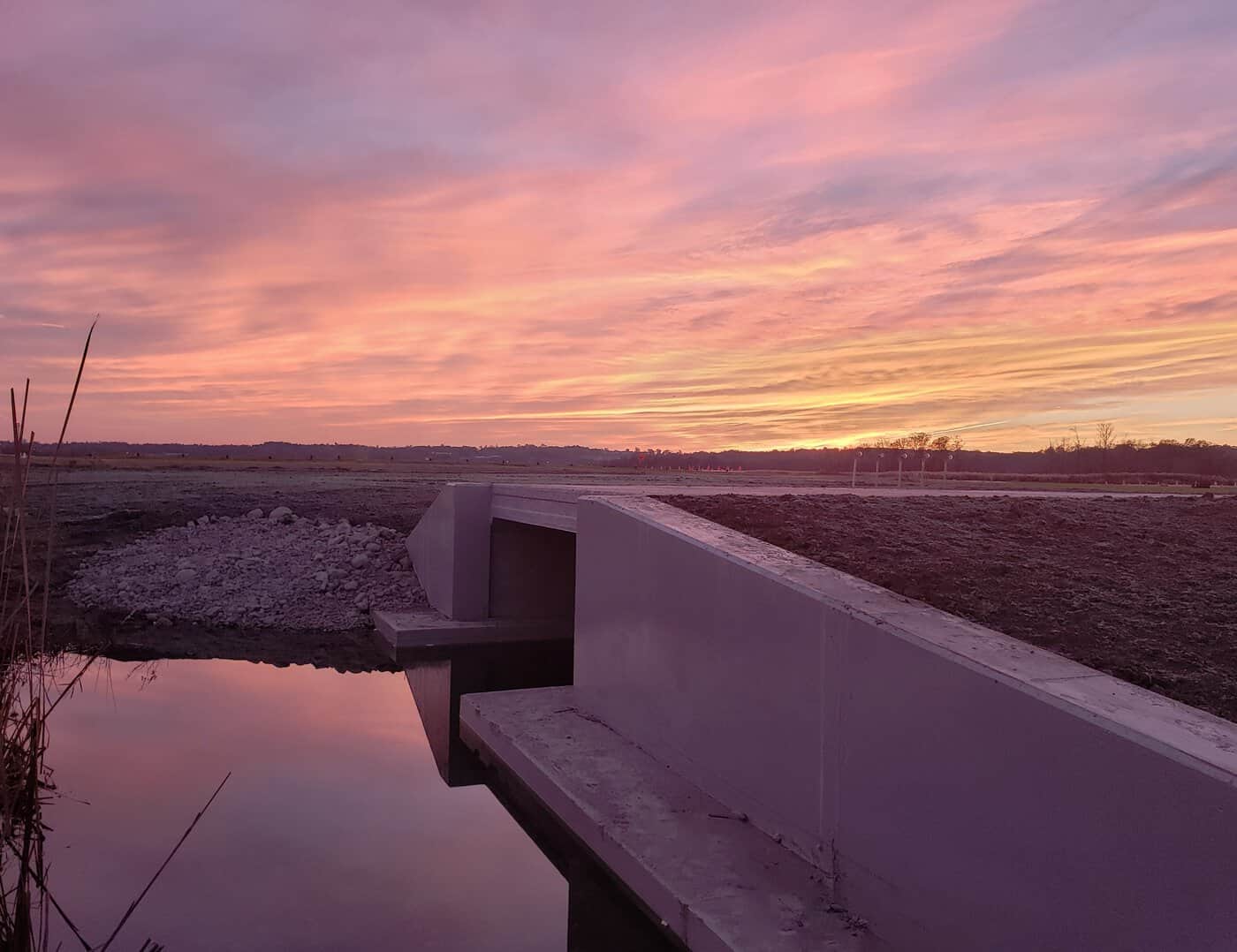 Completed culvert off the Runway 23 end on MALSR road. (November 7th)
Phase VIII (Complete)
Phase VIII (formerly "Stage C")
Phase VIII; Completed
Phase II, Stage C Construction COMPLETE
---
Phase II, Stage C construction on our Runway 5-23 Rehabilitation Project has officially been completed.
After a successful Federal Aviation Administration flight check in December, the newly installed Medium Intensity Approach Lighting System with Runway End Identifier Lights (MALSR) passed the inspection and has been entered into service.
The Instrument Landing System (ILS) and Glideslope navigational aids for Runway 23 have been returned to service as well. In conjunction with the FAA's flight check of Runway 23 components, a second flight check was conducted to check the Precision Approach Path Indicator (PAPI) for Runway 31. That check passed and the PAPI has been returned to service.
Phase IX (July 2023)
Phase IX (Formerly "Phase II, Stage D")
Project Kick Off: July 10, 2023
Runway 5-23 Construction is set to resume on June 23, 2023 with Phase IX of our Runway Rehabilitation Project.
Phase IX consists of a 30-day FULL CLOSURE of Runway 5-23 starting July 10 and tentatively reopening on August 10  and focuses on replacing the original drainage culvert that runs parallel to Taxiway Bravo and crosses underneath Taxiway Alpha and Runway 5-23.
Prior to the Runway 5-23 closure, there will be FOUR, full airport, nightly-closures to accommodate a crane for sheet pile installation ahead of work commencing on the Runway. Nightly-closures listed below:
June 23 (2200L – 0600L)
June 24 (2200L – 0600L)
June 25 (2200L – 0600L)
June 26 (2200L – 0600L)
---
To accommodate this work, the contractor will work in two stages; Work Area 1 & Work Area 2 to minimize the airfield impact as much as possible. The contractor has also committed to running two crews per day to complete the work as quickly as possible.
Full details of the project can be found by clicking the button below.
Phase X
How Do I?
WE WILL ANSWER ALL YOUR QUESTIONS
We've compiled a list of frequently asked questions about Morristown Airport and outlined them, here, for you!
Find or book a flight out of Morristown Airport
Take a tour of Morristown Airport
Find a flight school to learn to fly at Morristown Airport
Take a tour of Morristown Airport
Find a flight school to learn to fly at Morristown Airport
Follow Us to Get All Notifications
Stay on the Radar
MMU's DBE Goal
Morristown Municipal Airport, operated by the Town of Morristown, acting through DM Airport Developers, Inc., hereby publishes a proposed overall goal for its Disadvantaged Business Enterprise (DBE) program for use of Federal funds allocated for the FY 2020-2022 FAA Airport Improvement Program.  The Airport's overall goal is 6.1% of all FAA-AIP assisted projects. Information on the goal and how it was established is available for inspection at the Morristown Municipal Airport, 8 Airport Road, Morristown, NJ 07960 until 30 days from publication date, during the hours of 8:00 a.m. to 4:00 p.m.  Comments will be accepted through 45 days from publication date.